Whether hot or cold, sweet or hearty: we have something for everyone's taste.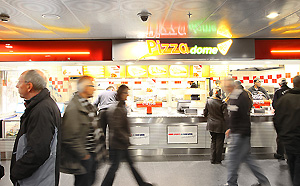 The show is about to begin and your want to grab a quick bite. Or, during the break you want to grab a hot Bratwurst off the grill and a cold beer.

No problem: In the arena halls there is a total of 17 Fast food outlets that offer a variety of international fast foods.

Pizza, bratwurst, hamburgers or wraps, as well as a variety of snacks like popcorn, ice cream and nachos are all here.

You also have a variety of drink options that should help quench your thirst.
Contact
Levy Restaurants
Tel: +49-40-88 163-400
Fax: +49-40-88 163-401
E-Mail: Info
Internet: Levy Restaurants