Salad, schnitzel, pasta and Currywurst in our big food corner.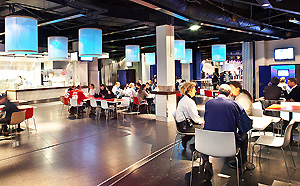 You would like to start your experience at Barclaycard Arena in an informal atmosphere. We have just the right thing for you, a trip to our OnStage Restaraunt.

There are 180 seats* in the Food Corner that offer a variety of daily menus including Caesar salad, a variety of steaks, pastas prepared in woks and of course our classic: Currywurst with French fries. Everything is freshly prepared in our kitchen.

. In addition, if you would like to celebrate with your team, it is worth it to drop by the OnStage after a game. The Hamburg Freezers and the HSV Handball Teams often celebrate their after-game parties here. In addition, the OnStage is also open before the start of all HSV Handball games.

The location is also great for all kinds of company parties, family fests and club meetings – from small to large groups.

In order to reach the OnStage in the Barclaycard Arena, simply take the stairs behind the Holsten Sports Bar on the main level. During events we open 2 hours before the beginning of an event (on certain occasions one hour before) and offer direct access to entrances leading to the arena. You are welcome to drop by – the OnStage is open for everyone.

*Reservations are not possible for the OnStage.
Contact
Levy Restaurants
Tel: +49-40-88 163-400
Fax: +49-40-88 163-401
E-Mail: Info
Internet: Levy Restaurants