Dine with a great view: Eat and Drink with a unique Panorama View.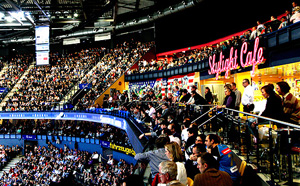 High above the playing field you can find an expansive paradise for fans of American and International foods: the Skylight Café on the 2nd and 3rd floors of the West Curve of the Arena. On the 2nd floor, up to 260 guests can enjoy a variety of American dishes, from steaks to burgers and fries, in a place that resembles an actual American diner. You can find an overview of what we offer during ice hockey and handball games here at menu*. For concerts and shows we offer a "small menu" , with a limited selection.

One level higher, up to 430 guests can find an international buffet with treats from around the world in our Skylight Café. The upper floor of the Skylight Café will be available with at least 30 preliminary reservations.

From both floors of the Skylight Café you can enjoy a fantastic view of the action in the Barclaycard Arena. Especially at handball and ice hockey games you can enjoy a great view of the playing field, while enjoying a steak, maybe a burger, a long drink and of course a cold beer is always available.

During concerts, musicals or theme shows the restaurant is usually behind the performing stage. While the view is blocked during concerts, you can still enjoy a delicious dinner before the show starts and watch the arena filling up. The Skylight Café opens two hours before the beginning of an event.

Are you interested in checking us out? Then feel free to reserve a table for the next event. You can call our reservation hotline at 040 – 88 163 400 or send us an email.

* = The regular menu is available at Hamburg Freezers and HSV Handball games. For concerts, musicals and theme shows we offer a "small menu". Please be aware that the first row tables are for dining guests. If you wish to only have drinks, you are welcome to sit at the second row or at the bar. We also want to make you aware that the arena view is only available during sporting events. During concerts the stage is usually directly in front of the restaurant, and therefore once the concert begins, the windows are covered in order not to disturb the show.

Gastronomie Jobs
Ob im Fast Food-Bereich oder als Servicekraft für unsere VIP-Gäste - kommen Sie in unser Spitzenteam.
Hier bewerben