Arrive in comfort and have a great view: Get ready for a fun and memorable evening!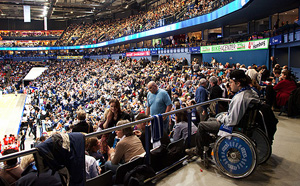 As one of the premiere and multifunctional arenas in Europe, we aspire to provide every guest a trouble free and unforgettable visit. Thanks to our state of the art building plan, we also offer spaces for wheel chair guests to have a great view. Arriving/Parking For all our guests with a disabled pass and that have official aG Handicapped license plates, there are 48 park places reserved in the VIP "BLAU" parking lot located directly next to the east entrance of the arena. To get here please come via the Hellgrundweg or through the "Grua" parking lot.

This does not apply to the license plat G (gehbehindert).

In case you are arriving with public transportation, you can use our free shuttle bus, equipped with a low floor entrance, which will take you from the Stellingen-Arenen station to the arena.

Admission

A ramp located on the ground floor of the E2 entrance can be used for wheelchairs, as well as children strollers. The entrance is located at the "BLAU" parking lot for wheelchairs. Once you are in the arena, you can reach all of the levels using a variety of elevators throughout the building.

Spectator seats

The spectator seats for wheel chair users – naturally with space for an accompanying person – are located on the ground level behind the U1 and U4 Blocks, as well as the U18 to U20 block, and are accessible from the ground level. There are a total of 79 wheel chair spaces, as well as place for 79 accompanying people.

You can find out more about our special seats when buying your tickets. Number of wheel chair spaces may vary according to demand and the different kind of events.

Washroom Facilities

You can find wheel chair accessible bathrooms on all levels of the Barclaycard Arena. On the ground level, they are next to the entrance ramps and can easily be found by following the signs.

The handicapped bathrooms can be opened with a Euro-key. Since 1986 the Euro-key system is used around Europe to open and lock handicapped bathrooms. This includes places such as barrier free bathrooms in the city, public buildings, train stations, highway rest areas, universities, public recreational places and stores. In the Barclaycard Arena it is also possible to use the Euro-key for handicapped bathrooms.

If you need a Euro-key, you can go online hereand order a key for 18 EUR. In case you have forgot/lost your Euro key, please contact our staff at the Info counter. They will be able to assist you.

Restaurants und Catering/Lounges

You will have no problem reaching all our dining and drinking establishments in the Barclaycard Arena – including 3 theme restaurants and 4 bars on the various floors, 17 fast food outlets on the 1st and 2nd floors – with four elevators located around the arena. It is also possible to reach our VIP suites and restaurants without climbing a step!